KYC
We at Rummy Millionaire strive to provide you with an unmatched gaming platform to play cash rummy games. We give utmost priority to safety and security of our online gamers. Our KYC (Know Your Customer) policy is an added security measure for safe & secure online transactions made on RummyMillionaire.com.
As Per the 'Responsible Gambling and Indian Rummy Consortium' guidelines, it is mandatory for cash players who have made a cumulative deposit of Rs.10,000 to verify their ID. Please be informed that such players who have not submitted the ID proof will not be able to make further cash deposits into the Rummy Millionaire account.
As we have a stern verification and anti-fraud policy, rest-assured that you are competing against a person who have a validated account. So, if you are unable to make any further payments on Rummy Millionaire, verify your ID and join hands to promote secure online gaming.
When to Verify?
You will be requested to verify your ID and address proof once your cumulative deposit exceeds Rs.10,000. You will receive a pop-up notification reminding you on the verification procedure. Alternatively, you can proceed with the verification by the below mentioned steps:
Verifying Your ID?
Step 1: Go to RummyMillionaire.com and log in to your account. Navigate to the 'My Account' section and click on the 'My Profile' tab. There you will be able to see an 'Upload Documents' button.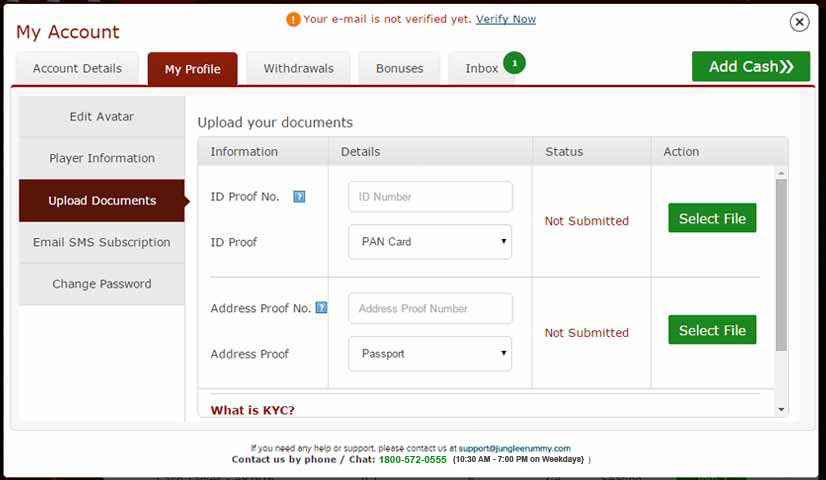 Step 2: In the text box input your ID proof number and select the proof you are submitting from the drop down. Next click on the 'Select File' button on the right and you will get a window to open the document. Navigate to the folder where you have saved the scanned copy of your ID proof. (Note: ID proof includes PAN / Aadhar / Passport. The image should not exceed 300 KB and should be in JPEG / GIF / PNG format).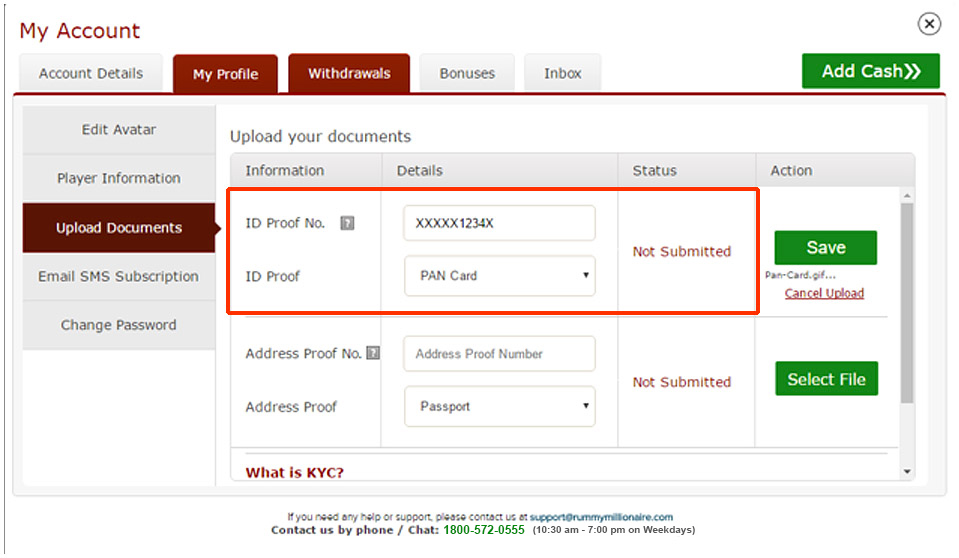 Step 3: In the bottom field you can see a text box where you will be able to enter your address proof number. Select from document you are planning to submit from the drop-down. As mentioned above, click on 'Select File' and select the scanned copy from your computer to upload. (Note: Address proof includes Voter ID / Ration Card / Bank Statement / Aadhar / Passport. The image should not exceed 300 KB and should be in JPEG / GIF / PNG format).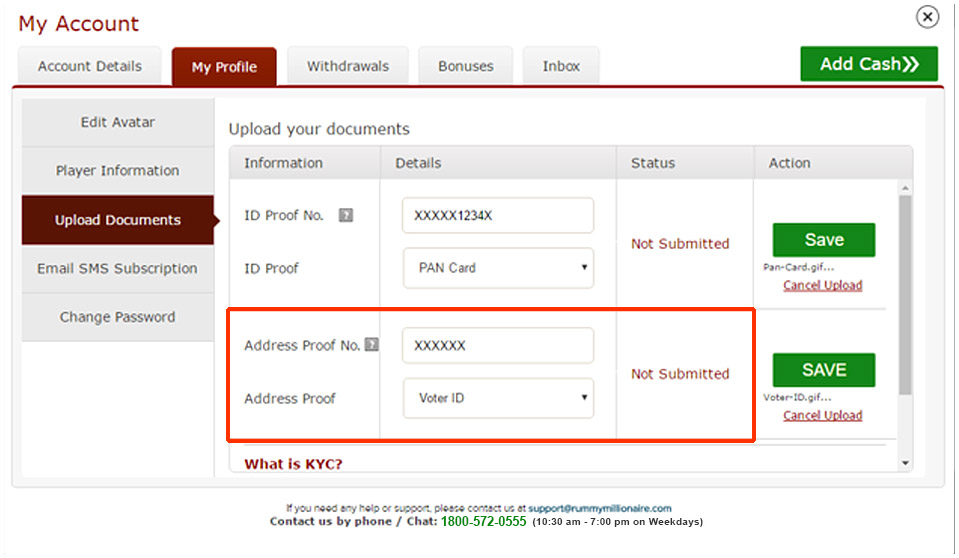 Step 4: Once you have uploaded the documents, you will receive an email confirmation. The documents will be reviewed by our team; you can view the status from the 'My Account' page.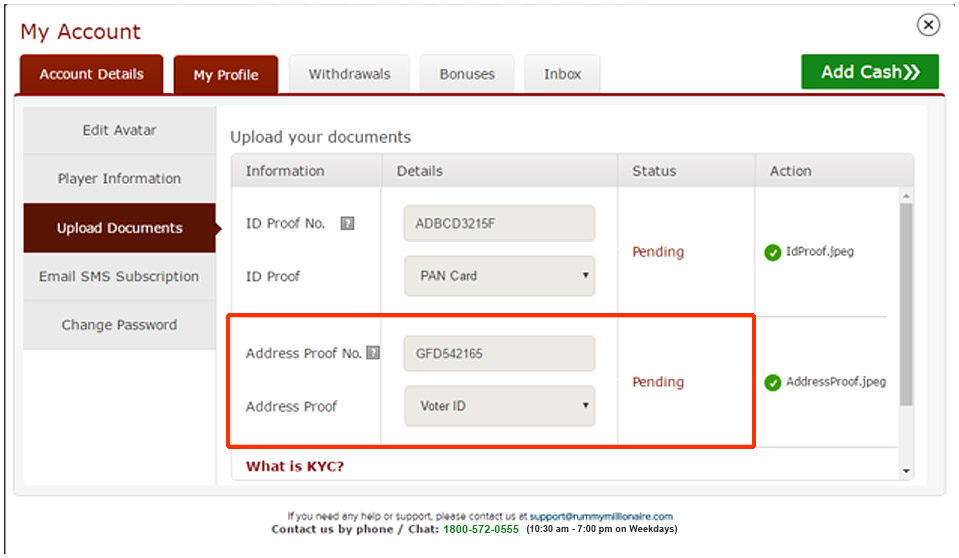 Step 5: You will receive an email confirmation on the successful verification of your ID proof. The status will be also reflected in the 'My Account' page.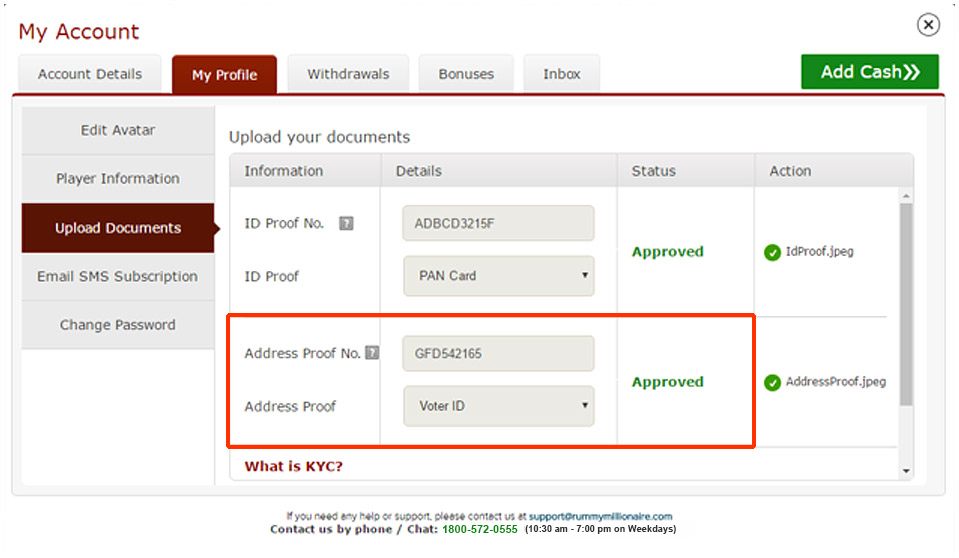 Terms and Conditions
1. You need to verify your account once your cumulative deposit has reached Rs.10,000. To deposit more funds to your Rummy Millionaire account, you need to upload your valid ID proof & Address proof for verification.
2. Any discrepancy on first name, last name & date of birth on the ID card to the previous Rummy Millionaire transactions will result in rejection. Invalid address proof and ID proof will also be rejected. You will be notified by email on the actual cause of rejection.
3. On successful verification of your ID proof and Address proof documents, you will be receiving a confirmation mail from the Rummy Millionaire team.
4. All standard Rummy Millionaire terms and conditions apply.
5. The decision of Rummy Millionaire management is final in case of any disputes.