Why Mathematics Matter in Rummy?
Don't run away after reading the title! You don't need to open your torn-away high school maths book to play rummy! We are here to show you some simple mathematics tricks that will help you to win the game. Don't believe us? Check out how simple application of mathematics can boost your winning chances and help you win lots of money!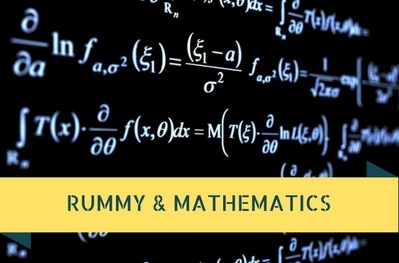 Count the Colour
This is really simple! How many cards are there in a deck? It's 52 with a Printed Joker. So, there can are 26 black coloured cards (Spades + Clubs) and 26 red coloured cards (Diamonds + Hearts) in the deck. Now, here comes the calculation part: Just check how many black or red coloured cards you have. If you more than 9 black coloured cards, it is highly probable that your opponent has more red coloured cards than you have. So, don't discard any red coloured card right away and let your opponent use it to make sequences. Wait for 3 to 4 moves until the coloured cards are balanced and then discard them so that they are useless to your opponent. Isn't that simple? Use such easy calculation and win more with mathematics!
Calculate the Probabilities
This could be a bit difficult but worry not, we will explain it to you in the simplest terms possible. The strategy is called calculating odds, which is an essential part of all skill-based card games. If you are playing against a single opponent, you will be playing with a single deck of 52 cards. Here, if you have more than 3 jokers, you can calculate that there are only 2 jokers left in the closed deck. The probability of your opponent having a joker is almost zero. Now, if the Jokers are of no use to you, you can discard them and taunt your opponent. He won't be able to pick up and will probably drop out of the game.
As you have seen, mathematics can really help you to win in rummy! Now, practise these simple mathematical formulas and win big at Rummy Millionaire!