Five Mistakes Keeping You Away From Winning A Game of Rummy
We all love playing rummy but winning a game is a different thing altogether. In order to win in a game of rummy, you need to have the confidence on the cards in your hand and also some skills to that can bluff your opponent. Most of us make some mistakes after the cards are dealt and these silly mistakes often take the rummy game away from us. So, in this article we will be talking about the top 5 mistakes we do while playing rummy, avoiding which we can have a better chance of winning.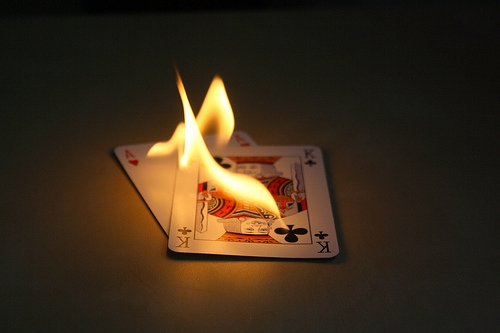 Over Enthusiasm: Enthusiasm is good, but over enthusiasm can lead to troubles especially in a game of rummy. Rummy is a game of patience and you need to look at the possibilities to make melds and also to block your opponent by winning just after the cards are dealt. So, be calm and play accordingly checking out the cards picked by your opponent from the discard pile.
Over Confidence: As compared to enthusiasm, confidence has a little role in the game of rummy. Although you need to have confidence in the cards you got, over confidence can make you lose the game with huge points. So, when you get your cards, do ask yourself whether you can win the game with these 13 cards or not. If not, drop..that's the best idea!
Being More Social: Every online rummy website has got an option to chat. But it doesn't mean that you have to use every time you play. The more you use this feature, the more your opponent can understand your hand depending on his level of understanding of the game. So, it's suggested that you use this feature less unless you are playing with your friend or family.
Misusing the Wildcards or Jokers: Jokers play an important role in the game of rummy. You can use them to make the melds that will help you reduce the points to a great extend. So, if you have already formed a pure sequence, add wildcards or Jokers in card sets where you think it can reduce the points even if you lose the game.
Keeping High Cards: Keeping high cards until the end of the game might be the biggest mistake you will be making. Try to discard high cards like A,K,Q and J as soon as possible if you think you cannot make a set or sequence out of them. If you lose the game, this high point cards can make lose with very high points.
If you start playing the game of rummy with the instructions given below, there is a possibility of more than 75% that you will win the game. To know more about rummy strategies and how to play rummy on the best online rummy sites in India, visit How to Play category on our website.