How to be an Ace Online Rummy Game Player?
Online rummy games are now taking a huge part of time we spend on the internet especially if you love playing games to its core. While most of the online rummy games are played for real cash, there is a huge chance of losing out the money if you don't play well. In this article we will be providing you with some tips that will help you in becoming an ace player in online rummy games and tournaments.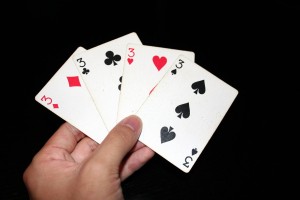 Pure Sequences: When you are playing online rummy games, always look for ways to make a pure sequence. Even though it is recommended two sequences are needed, you can use a Joker in other one and make your lose a little lighter. Pure sequences help you in losing without much burden of points.
Using more than 3 Cards for Sequence: Most of the amateur online rummy game players think they can only add 3 cards in a sequence. There is no rule like that. You can add as many cards to a sequence as long as it is legal. So, look out for the chances next time and take advantage of it.
Eliminate High Point Cards: This rule is one of the basic rules that all should apply to their online rummy games. Eliminating or discarding high point cards at the start of the game will help you reduce the burden of points if you lose. So, try to discard cards like K, Q, J and A as soon as possible if you can't make a sequence or set with them.
Joker Cards: In an online rummy game, a Joker card is of high importance. You can add them to make a sequence and also to lessen the burden of points that might incur upon you if you loss. But, you have to play strategically in order to take advantage of the Joker cards. It's always better to safeguard the Joker cards and add them when you are about to declare the game.