13 Cards Rummy Vs 21 Cards Rummy – Who Wins?
This could be the battle of epic proportion! Which card game is better – 13 Cards or 21 Cards Rummy? Now, that's something really hard to figure out, don't you think so? If you are as confused as we are, let's settle this with some hard game facts!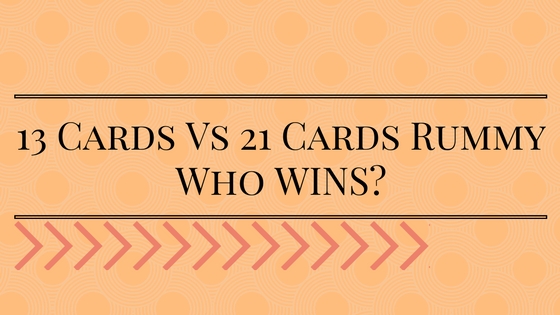 Cards Dealt
Let's start with a no-brainer! When it comes to dealing of cards, 13 cards rummy becomes a much faster and exciting variation. With eight cards lesser, 13 Cards Rummy offers a more thrilling experience and is loved by everyone for its faster gameplay.

Card Decks
Chances always improve if there are more cards in the closed deck. The same is applied in rummy. If you have more outs, you have better chances of winning. So, 21 cards rummy is better than 13 cards rummy in this aspect as it uses 3 decks of cards.
Pure Sequences
Who doesn't like pure sequences? We all do but it's also the most difficult group to make. In this aspect, 13 cards rummy is much easier as you need to make only 1 pure sequence when compared to 21 cards.
Jokers
The more jokers you have, the better it gets! So, 21 cards is the clear winner in this aspect as you have the additional Upper and Lower Jokers. Also, who doesn't love the game-changing marriage in hand!
And the Winner is!
No one! Because it is a tie! Both the variations have their own advantages. Each offer different levels of excitement and that's why they are equally loved by all rummy lovers! Battle Over!